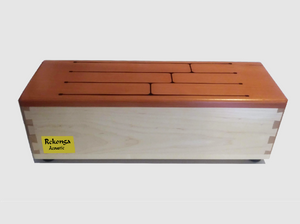 You will find the product for sale at:
eBay.com: https://tinyurl.com/yckn7yzh
Amazon.com: http://tinyurl.com/AmazonRekonga
Guitar Center: https://www.guitarcenter.com/Rekonga/
Musician's Friend: https://www.musiciansfriend.com/world-percussion/rekonga
The 6-Tongue Tongue Rekonga Drums were  designed to give you a super rich conga-like sound.
Imagine multiple congas integrated into one beautifully crafted and compact percussion instrument.
You can easily take it with you to a drum circle, jam, concert, or recording. There are infinite possibilities.
Specs ---
Dimensions:  Length 17 1/8" x Width 5 1/2" x Height 6 1/2"
Materials
:
Tops: including reclaimed wood and red cedar*         
Body: sugar maple, white with reddish-brown hues
Mallets: birch and natural gum rubber