*USE HEADPHONES FOR OPTIMUM SOUND QUALITY*
Rekonga
We developed a percussion instrument that mimics the sounds of the Conga, Tumba, and Quinto conga drums. When you play the Rekonga, it's like having a large number of congas, all within easy reach.
If you're a drummer and want to play conga sounds and tones using mallets...well, we have created an instrument just for you! We've fashioned our drum to let you easily and smoothly express your inner rhythms: whether primitive, modern, or a combination.
The Rekonga drum is beautifully crafted and never goes out of tune. Amazingly, the Electric Performance Pro-Series Rekongas give you more than the sum of its tongues - the tones change as you move up the tongues. In fact, the entire top becomes amplified, giving you an incredible number and variety of tones.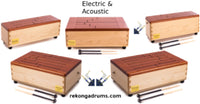 Videos: You won't believe it's not a conga...
Drum Features
Fantastic Real Conga-Style Sounds and Tones
Beautifully Hand-Crafted and Durable
We Use Sustainable and Reclaimed Wood
Never Goes out of Tune - Ever!
Electric Series Amplifies Whole Drum Surface
Rekongas Go Anywhere and Everywhere
We have Specially made Hand-dipped Mallets
Happy Rekongeros
I can't believe this huge sound is coming from such a small instrument!

J.B.
I took the Rekonga to a drum circle...it was the hit of the party!

S.G.
It's amazing! It's like having 3 congas in one drum.

P.G.
Rekonga Workshop Factory
My Story
In my late teens, I started to play the congas professionally. Lots of travel, lots of gigs, but I never hit the big time, which usually meant I had to carry and transport my own congas, bongos, and accessories.
 I decided I needed a smaller, lighter version of the conga. After trial and error of at least one thousand attempts, I finally fine-tuned a wooden percussion instrument that mimicked the conga: The Rekonga Tongue Drum. I slowly developed the instrument, starting with 2 tongues and ultimately arriving at the 12-tongue Electric Performance Series Rekonga.
Contact us for product information or to purchase accessories